HOME>How to Use a Ryokan>Cheking - out
Cheking - out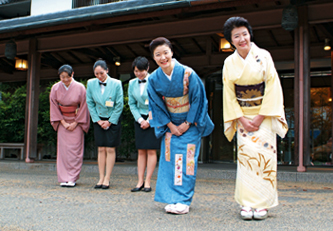 Welcoming you again!
After enjoying a good breakfast and with only a short rest after it, you take time to get dressed. The hour of departure is approaching, but you wish to spend the last few moments in a memorable way. There is no need to hurry. Please take your time and relax until the hour of departure.
At most ryokans, the check-out time is either 10 or 11 o'clock in the morning. Although some guests may leave very early in the morning due to their itinerary,if you are in no particular hurry, please enjoy yourself a while longer before you leave the ryokan.
Steaming hot rice, miso soup, grilled fish, tofu dish, egg dish, nori (dried seaweed), and tsukudani (small fish and shellfish boiled down in soysauce and sugar) make up the standard Japanese-style breakfast. Prepared with pride by the ryokan staff, the dishes will stimulate your appetite.
It is time for departure. The Okami and her staff will all be there at the entrance to see you off, regretting the shortness of your stay. In Japan, there is the proverb "Sode furiau mo tasho no en (Even a chance acquaintance is preordained)."This signifies that an encounter, no matter how brief, is to be treasured forever, for the encounter may have been predestined by the Karma in one's previous life. The Okami and her staff, wishing that you have enjoyed your stay and will have a safe journey ahead, will repeat their words of gratitude, bow repeatedly, and smilingly wave until you are out of sight:"Thank you very much for staying with us. We hope you will visit us again."
A public area - guests can use the Internet.
Delicacies, sweets and 'sake' make good souvenirs.
Just as when you arrived, some ryokans will serve you a drink prior to departure. Japanese tea or coffee before leaving the ryokan somehow tastes special.
Check-out time is either 10 or 11 o'clock in the morning.